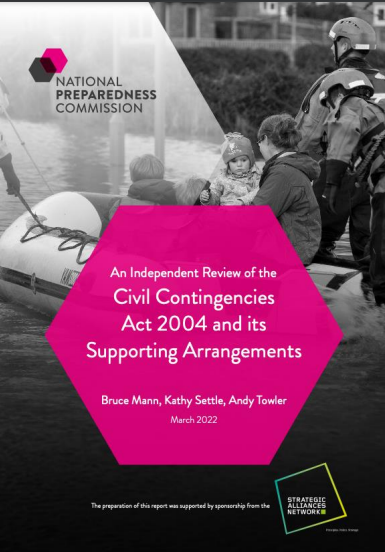 The National Preparedness Commission has published its Independent Review of the 2004 Civil Contingencies Act and its supporting arrangements. It makes 117 recommendations and concludes that the Government must learn lessons from the COVID-19 pandemic and other emergencies over the last two decades if UK resilience arrangements are to be made fit for the future.
Key recommendations in the report include:
Need a major investment in skills, and new arrangements to check that people and emergency response teams at all levels are competent.
Fundamentally reboot the training system, including creating a Centre of Resilience Excellence (CORE).
Creating proper partnership arrangements which involve all the people, voluntary organisations and businesses who can contribute. Covid-19 showed what a true 'Whole of Society' response could look like
Publish more information on risks and their consequences to enable families, communities and businesses to be better prepared.
Give people affected by emergencies a voice in developing policy and operational practice.
Remove people's concerns around data protection that is stopping the sharing of personal data and hindering people getting the support they need when they need it.
Increased funding to strengthen local partnerships.
Designate the National Security Adviser (or Deputy) as UK Government Chief Resilience Officer with personal accountability for what is done to build UK resilience.
Create a single dedicated national body to lead and drive the improvements needed with a clear mandate, authority and resources.
Better recognise the role of metro mayors in a crisis, as a clearly visible local leadership figure, with significant agency and authority.
Lord Toby Harris, Chair of the National Preparedness Commission, comments:
"We have a once-in-a-generation opportunity to make necessary improvements to the UK's resilience and it is vital that the Government seizes the moment."