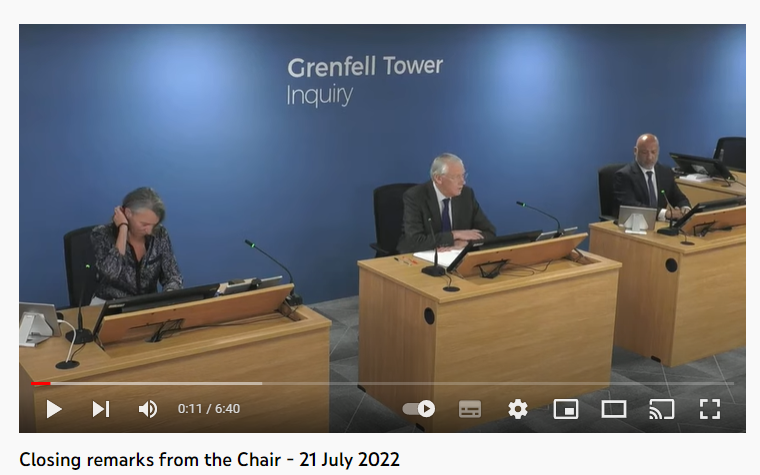 The Grenfell Tower Inquiry's hearings have ended, apart from overarching closing statements that will be heard during the week of 7th November.
Commenting, inquiry Chair, Sir Martin-Moore Bick, said:
"As the hearings come to an end, we enter the next stage of our work and it may appear to some that the Inquiry is no longer active. But I want to reassure you that is not the case. The task facing the Panel is one of considerable proportions. The Inquiry has disclosed to Core Participants over 300,000 documents, all of which are considered to be of relevance in one way or another to the matters under investigation. It has obtained over 1500 witness statements and has sat for more than 300 days, most of which have been devoted to taking evidence from a wide range of factual and expert witnesses.
"In the course of the hearings it has become apparent that many mistakes were made, and many witnesses have acknowledged that they or the organisations they represented failed in one way or another to meet the standards to be expected of them. However, in order properly to identify and evaluate the underlying causes of the fire, the Panel will have to consider the evidence in detail to determine the extent to which such failures contributed to the disaster. When seeking to identify the causes of a major tragedy in which so many people died, it is important that criticism should be directed at those who truly bear substantial responsibility for what occurred. I cannot say therefore at this stage how long it will take us to produce our report. We are of course acutely aware that all those who have an immediate interest in the outcome of the Inquiry, and I think particularly of the bereaved, survivors and local residents who need us to complete our work as quickly as possible. We ourselves are anxious to do that, but we also know that if our report is to carry weight, and if the recommendations it contains are to have real force, it must be comprehensive, well-reasoned and persuasive."
Watch the full closing remarks here