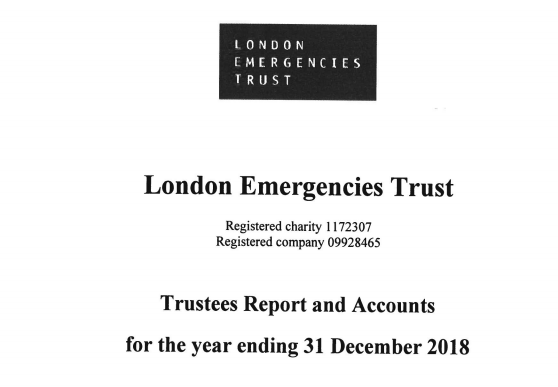 The cornerstones of LET's work were the partnerships which helped raise and deliver the funds, principally the British Red Cross (BRC) and its donors as our principal fundraiser, as well as those Trusts and Foundations who made generous grants to support our operating costs. Our work with families and friends of those who lost their lives and those who survived the four terror attacks was supported by the Family Liaison Officers and other serving Metropolitan Police officers as well as local authorities leading the humanitarian responses, particularly in Westminster and Southwark.
At Grenfell, strong bonds were established with other funders, notably the Kensington and Chelsea Foundation and the Rugby Portobello Trust and the Charity Commission for England and Wales whose role as Regulator so helpfully came to the fore in pulling together information about funds raised and distributed to ensure public clarity and accountability. LET also made sure it had regular contact with colleagues at the we Love Manchester Emergency Fund (WLMEF) doing the same work after the Manchester Arena attack.
We also devoted time and resource to learning &om our work, so that others doing the same or similar in future could learn from LET's experience, the things that worked as well as where we could have got our response better. This found expression in the review of LET's work carried out by Professor Diana Leat and published at a reception in the House of Lords in November 2018, generously hosted by the Lord Speaker, Lord Fowler, with costs supported by the City Bridge Trust. You can find a short description about the report in section 5 of the Trustees' Annual Report following, together with a link to the report itself on our website.
Download the annual report and accounts for the year ending December 2019 here